XS Nightclub & Night Swim
With more than 100 tables and 30 cabanas scattered throughout its 40,000-square-feet, it set the new standard in design tone for all of its successors to follow nearly a decade ago.
With its stunning chandeliers, suggestive female torso statues and a layout that's meant to mimic the curves of a woman's body, no detail is too small. To be ahead of the evolving nightlife scene, XS quickly gave a $10 million upgrade to its lighting, sound and technology system, moving the DJ front and center to better host its extensive DJ lineup—quite possibly the best on the Strip.
If that's not enough, its Sunday Night Swim party during the summer months has become one of the most sought out parties to grace the city.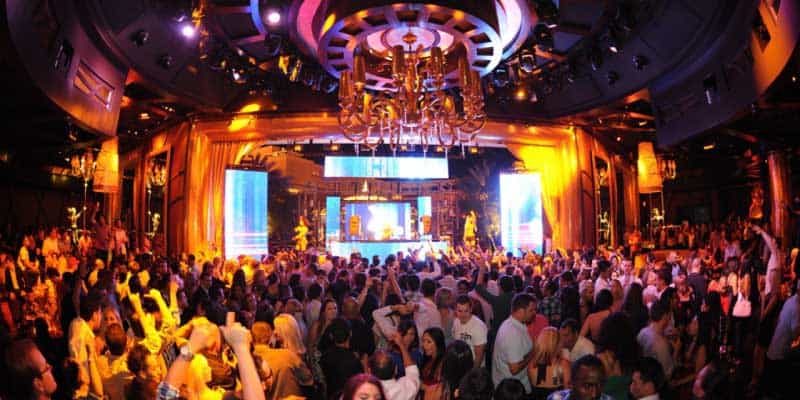 Stupak's Note
"XS is home to the most grand of entrances, and the venue flows toward the DJ. The inside captivates the human imagination and gives you a sense of awe. You don't need a table to have fun, either. The venue is sprawling and encourages patrons to explore. The inside was built with VIPs in mind, but the outdoor area is so large that it essentially serves as an outdoor festival. The tables outside are affordable and large, allowing you to host a large group without feeling overly crowded."
Behind the Ropes
Pinkies Up: Why don't you dive into a $10,000 cocktail? The Ono Cocktail is Rémy Martin Louis XIII Black Pearl cognac, Champagne, Sence Nectar rose extract, fresh-squeezed orange juice and apricot puree all served in a jewel-encrusted glass. Oh, and don't forget the his and hers 18-karat gold necklace with a Tahitian black pearl and Mont Blanc gold and leather cuff links.
On Deck: The current DJ roster spread across all Wynn daylife and nightlife ventures is a force to be reckoned with: Diplo, The Chainsmokers, Marshmello, Galantis, Kygo, David Guetta, and more.